Mahadhi Sherari Omari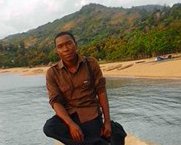 "We need education as weapon to face the life challenge."
Hello!  My name is Mahadhi Shehari Omari.  I was born at Chole Island on 31 August 1989.  Chole Island is the beautiful island at Mafia district in Pwani region in the eastern side of Tanzania.  At Chole Island you can find many interesting things like flying animals (bats), social activities of [the] people of Chole, old ruins built about hundreds of years ago.  At Chole you can also find beautiful area under sea water where you can view beautiful fishes, coral reefs and the good scenery of sea floor of Chole.  I would like to take this opportunity to welcome and encourage visitors from Tanzania and out of Tanzania to visit Chole so that they can see the interesting and wonderful things of Chole Island.
MY EDUCATION
My journey in finding education started in the year of 1998, when I started pre-primary [kindergarten] education, starting primary education in the following year at Chole Primary School.  I completed the primary education in 2005 and joined with secondary education in the followed year at Kitomondo secondary school and complete it in 2009.  Then I went for advanced secondary education and finished it at Milambo High School in 2013.  Now I'm [a] student at St Joseph University of Tanzania taking Bachelor Degree in Computer Science with Education and I'm going to be Computer Science teacher after finishing my degree.
My interests in computer and teaching have grown since I was going to learn computer and English language at Chole Learning Center where I started to learn computer for the first time.  My first computer teacher who was also teaching me English language during evening time after primary school and some time at night from 8pm to 10pm was Miss Karen Oakes who inspired me so much [that] from that moment I started to like computer and teaching.  I remember one day I said myself "I want to know computer skills and I want to teach other like Miss Karen does".
I'm in final year of my course now and I have to make sure I study hard so that I can fulfill my goals.  I want to help myself, my family and others to face the globalization challenges.  Today, the world is changing in every moment; the technological and scientific innovations are risen up in every day.  We need to know all of these changes and what they mean to us.  Computer skills are one of the essential tools to understand these changes and how they can be good or bad to us.
As a University student from Chole Island I'm very happy with university life.  A good foundation of computer skills and English language we get from Chole Learning Center at our village as well as a good care from our village especially for those who are still studying make our life in university easier and interesting.  Studying university helping me many thing like preparing my future, increase my social relation with other people from different part of Tanzania and abroad, that is to say I make new friends in university who can share with me ideas, their life experiences and discussing together our studies.
Also in university life, student learn how to take care of him/her self as studying away from parents, close friends and relative it is hard issue, but if you make good relations with your fellow students, teachers and society, you can feel like you are surrounded with home people.  You need to take control of yourself as freedom in university may lead you into bad things like drugs abuses.
MY WORDS TO THE CHILDREN AND YOUTHS OF CHOLE
To my young sisters and brothers of Chole Island, you should work hard in your studies so that your goals are fulfilled.  You must also remember that Chole Island and the world are waiting for you so that you can make great changes.  And to my fellow youths of Chole who are not at school or they complete ordinary level secondary education but they didn't get a chance to continue with studies in higher levels, they shouldn't give up in finding education.  It is better for them to find time when they can go to Chole Learning Center and learn computer skills and English language.  They can also find technical colleges like VETA, which is a college for vocational training in Tanzania where they can get skills which can enable them to be employed or to employ themselves and help to raise the economy of our village of Chole.
Life has many challenges and we need education as weapon to face the life challenges.  Let's all children and youths of Chole find education wherever it is.
May God bless all of us!